Regular price
₹669.00
Sale price
₹549.00
Unit price
per
Sale
Sold out
About Me
Cook Me
Nutrition
It's the Cricket Season and get ready to party like a Shaka Harry!  We've put together the perfect combo of tender & crispy nuggets, crunchy & flavourful samosas, succulent & juicy momos for you to enjoy your favorite match.
Storage 
Keep Frozen at -18°C. Do not Thaw. 
For product details 
View full details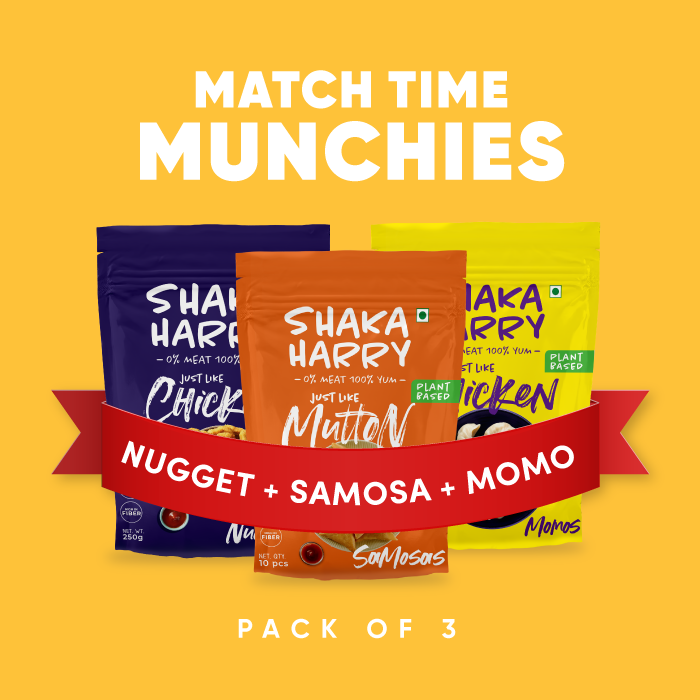 Match Time Munchies (3 packs- Samosa, Momo & Nuggets)
Frequently asked questions
How are Shaka Harry products made?

The goodness of plants like soy, pea and mushrooms, flavourful magic of our chefs and brilliance of science, all are brought together to make plant-based meat products that taste, feel and look like meat.
What are the health benefits of plant-based meat?

Plant based meat is healthier as it is cholesterol and trans-fat free, thereby lowers the risk of cardiovascular diseases, high in dietary fiber which helps boost digestion, high in protein which helps in muscle building, tissue development and growth.
Is this lab meat?

No. Lab meat or cultured meat is produced in the lab using cell culture of animal cells, whereas Shaka Harry products are made by combining a selection of plant ingredients and natural (or nature identical) flavours.
How are Shaka Harry products created to mimic meat?

Simple cooking processes like heating, pressure cooking, mixing and forming is done to match the composition, flavor and color of meat. Each product is vigilantly curated to suit the Indian palate.
Why Shaka Harry products claim to be just like chicken or just like mutton?

The look and feel of Shaka Harry products is just like chicken and mutton products in terms of taste, texture and flavor. Try them out and see if you can really tell the difference!
What makes Shaka Harry unique?

Shaka Harry products are completely indistinguishable from animal-meat products in terms of taste, flavour, texture and appearance. There is no off flavour and aftertaste because of plant ingredients.
Is MSG added to Shaka Harry products?

No. All the Shaka Harry products are MSG free.
Are there any artificial preservatives being used to maintain the shelf-life?

No artificial flavours or preservatives are used in the products. A Shelf-life of 9-12 months is made possible with frozen storage conditions (below -18°C), which prevents product spoilage.
Where can I buy Shaka Harry Products?

You can buy our products online on our website
What makes Shaka Harry products a sustainable alternative?

Our plant based products are made from sustainably sourced ingredients. Plant-based meat products need less water for production, emit lesser carbon emissions, and use lesser resources as compared to animal meat. Hence, a switch to "Shaka Harry" is a step towards a sustainable life.
Are Shaka Harry products vegan or vegetarian?

All Shaka Harry products are vegan, which means they are made from plants and are dairy-free.
Are Shaka Harry products gluten-free?

Shaka Harry Just-like Mutton Keema, Just-like Mutton Seekh Kebab and Just-like Chicken Shami Kebab are the products which are gluten free.
How can I have my order related queries or refund requests addressed?

Please click here for any order-related queries and assistance.